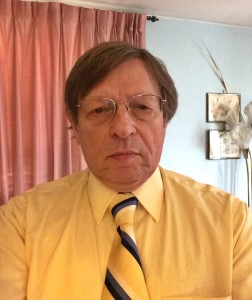 James Wurster is Co-Founder of New Avenue Foundation. Jim graduated from Drexel University in 1971 with a B.S. in Biology. He then got his Master's degree in Environmental Science from Drexel in 1974.
When Jim got out of school, he worked at NDI Engineering Company for 12 years (to 1986) as a technical writer, documentation manager and systems analyst. Jim then was employed at Miller, Mason and Dickenson (to 1991), an employee benefits consulting company for 5 years as an applications programmer/analyst. Jim then worked at Conrail for 5 years as a senior information analyst (to 1996). He then worked for 3 years (to 1998) at Malvern Systems, a shipping systems company. And then his last job was at BNY Mellon as a Sr. Software Engineer for 15 years to February when he was laid off. This then gave Jim the opportunity to follow his dreams and do what is needed to be done. And so, with Tom, they formed the New Avenue Foundation. Our history is now unfolding.
Jim met his wife Maria in Wildwood back in 1970 while in college. They have been married for over 43 years and have 2 daughters. Alicia is 26 and has multiple diagnoses including autism, MR and bipolar disorder. Tabitha is 30 and has just received her doctor's degree in psychology from Temple University. She is now moving to Charlottessville, VA where she will be doing a post-doc at the UVA.
Jim and his wife Maria have always been involved with parent support groups, more so now that Alicia is older. They have been involved with an adults group with individuals with Asperger's for over 3 years now, even though Alicia does not have Asperger's. Alicia has grown a lot and made new friends in this group. They have also been involved with 2 other social groups in Chester County for over 5 years. These were parent-developed and led groups that have provided a lot to their members.
Jim seems to volunteer a lot. He believes in "paying it forward" and helping build communities. All of his help to community organizations seems to be via his technical skills, primarily web site building. He has built web sites for The Special Olympics of Delaware County and The Autism Alliance of Chester County and helps manage The Arc of Delaware County's web site. He gives back to the organizations that support the disabled.
Jim is also concerned about building stronger communities to make them resilient especially in poor economic times. And so, he is firmly behind local organizations like Transition Town Media, Timebank Media, Timebanks USA, and Wilmington in Transition. He is also concerned with providing healthcare needs to those who need it. And so, he is part of the Patch Adams Free Clinic in Philadelphia project.
Jim also supports the arts and built the Haverford Music Festival website and manages it. He also volunteers for Dance Parade of NYC in support of their programs. Jim also supports social justice causes and built websites for Pacem in Terris Delaware, Ulster Project Delaware, and Delaware Coalition Against Gun Violence.